Nimmi Kovvali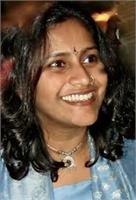 Nimmi started practicing yoga seriously in 2004 but has been a student of yoga since she was a child. Her love for the practice inspired her to share the benefits and joy of doing yoga with others. Nimmi's personal practice is based on the principles of satya (truth), ahimsa (non-violence) and aparagraha (not hurting), which she strongly emphasizes in the classes that she guides. She offers a safe space for her students to explore their practice through the use of props and modifications to asanas. Nimmi has studied under the guidance of several well known instructors includingScott Blossom, Mark Horner, Mark Stephens, Jill Glikbarg, Ben Thomas, Kent Bond, Janya Wongsopa and Srivatsa Ramaswami.
Nimmi Kovvali instructs the following:
Yoga Nidra ("Yogic sleep") is a guided practice that involves simply listening while lying in savasana for the entire class, inducing complete mental, emotional and physical relaxation. This versatile technique has been used in stress management, physical therapy, to enhance the learning process, to harmonize the deeper unconscious mind, and to ultimately awaken our inner potential. All our welcome, and all can benefit deeply from this practice! It is believed that a single hour of Yoga Nidra is as restful as 4 hours of conventional sleep... see for yourself!

*This class is will be offered as a Donation Class, with 100% proceeds donated to a local charity, on the following Mondays 7-8pm: 8/20 and 8/27. Come join us!