Phoenix Bick-Maurischat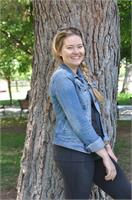 Formerly a competitive dancer, Phoenix discovered yoga as a path to recovery from her dance injuries, and has found through her practice, both a joy of movement and a stress reliever. Phoenix completed her 200-Hour Hatha-Vinyasa teacher training with Noell Clark and Angie Poon. She is Yoga-Alliance certified and has had the privilege of teaching in a variety of settings including local community events, schools, and several yoga studios around the Bay Area. Phoenix leads a dynamic upbeat class with the flexibility to adjust pacing and poses to meet her students' varying skill levels. As an avid music lover, Phoenix also enjoys sharing funky, customized playlists in her classes.
Phoenix Bick-Maurischat instructs the following:
This class is a combination of your typical vinyasa flow with elements of pilates with some resistance band exercises! Bringing more awareness to the body and offering a fun variation to add to your yoga practice. Throughout the class, we will use poses and exercises to isolate certain muscle groups all linked together in a flowing vinyasa sequence, complete with a lavish savasana! This class is open to all levels expect to be given the options to take everything at your own pace while being challenged to try new things! You will leave feeling empowered and amazed at what the body can do!