Alejandro Rivas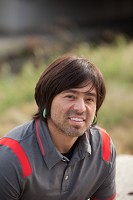 Alejandro has been teaching yoga for 12 years and is a Lululemon Ambassador. Yoga has shaped his life tremendously, it allows him to be present in every moment, to not take anything for granted, and to surround himself with amazing friends and family. He teaches Vinyasa Flow and specializes in various types of massages such as Prenatal, Shiatsu, Reflexlogy, Crainiosacrial and Sports Massage.
Alejandro Rivas instructs the following:
This slower moving, meditative flow balances both the body and the mind, allowing you to focus deeply on your breath and alignment to release tension and tightness in the body. We'll start class with some gentle sun salutations to warm up then move into smooth, stable holds in postures designed to nourish and strengthen the deeper tissues. This class is a perfect for all levels and is a balancing complement to an active lifestyle and Yang practice.




A slower sequence of flowing postures synchronizing breath with movement. Ideal for beginners and intermediate students. Modifications may be suggested for all levels of practitioners.