Alejandro Rivas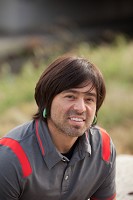 Alejandro has been teaching yoga for 12 years and is a Lululemon Ambassador. Yoga has shaped his life tremendously, it allows him to be present in every moment, to not take anything for granted, and to surround himself with amazing friends and family. He teaches Vinyasa Flow and specializes in various types of massages such as Prenatal, Shiatsu, Reflexlogy, Crainiosacrial and Sports Massage.
Alejandro Rivas instructs the following:
A flowing sequence of postures combining breath and movement. Build heat from the inside and out, core strength, stamina and flexibility in this class. This is an all-levels class, with modifications provided for all levels of practitioners.




Yin yoga bypasses the muscles and allow you to nourish and strengthen the deeper tissues. Connective tissues, fascia, joints, ligaments and bones receive gentle, low load stress. The poses are held between 2-5 minutes or longer and the muscles stay passive in order to pass the stress on to the deeper tissues.

Each Yin pose is an opportunity to go inward and meditate. It is a wonderful complement to an active (Yang) practice and a much needed tool for anyone who need to unwind tight body, mind and heart.