Deepa Dravid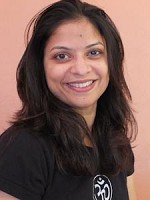 Deepa's yoga and Pilates classes are a reflection of her journey to discover the beauty, strength and power of the human body. Deepa discovered Yoga at a time when exercising meant pushing her body to its limits. With the introduction to Yoga, she realized that she was getting to know her body like never before. She learnt how to listen to what her body was communicating, while encouraging it to explore its potential in a manner that was loving and respectful. As a mother of two young boys, with a demanding career in Information Technology, Deepa was caught, as all of us are, in the crazy, multi tasking treadmill we call life. Yoga and Pilates brought balance to her life. This experience has led Deepa to believe that here is a gift we can give others and ourselves; yoga can help fortify our physical, mental and spiritual health giving us access to a well of resilience, patience and energy. Captivated by the power of Yoga, Deepa decided to learn more about it and got a certification in yoga from the prestigious Avalon Teacher training program. She also has a Pilates certification from the Center of Balace and a Yoga Tune Up certification from Jill Miller. She has a creative, methodical and holistic teaching style that invigorates the mind as well as body, and her classes are accessible to all levels of practitioners. One of the teachers who has most influenced her is Tom McCook of Center of Balance. When Tom said "when we practice we are beginning a long conversation with our body that will continue to expand our perspective, choices and help keep us aware of what's truly important" Deepa knew that here was a mentor with whom she shared her deepest belief about body movement. Deepa's classes truly reflect this holistic and life-long practice of Healthy you. For her it is about worshiping the body and supporting it in reaching its full potential in strength and health.
Deepa Dravid instructs the following:
Self care and foundation/Strength building are the benefits of our

Yoga TuneUp-Vinyasa

class. Are you a yogi, jogger, rock climber, cross fitter or triathlete? This class can provide the type of exercises that will strengthen/stretch little used muscles and put you in a stronger position with any sport or physical activity you pursue.

We will start with mini Vinyasa's targeting little used muscles followed by a flowing sequence of postures combining breath and movement building heating, core strength, stamina and flexibility. We will also use yoga-tune balls which are wonderful tools for self-care. Rolling on the balls loosens plus massages muscles and enables the release of tension.

This is an all-levels class, with modifications provided for all levels of practitioners.