Alyssa Lugtu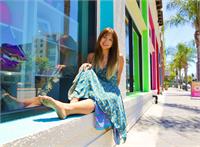 Alyssa discovered her passion for yoga early in 2011. She committed herself to the practice, while searching for a way to bring greater strength and happiness into her life. Through her active lifestyle, she found yoga to allow her to connect the mind and body. She wishes to share the same joy she has found with others. Her teaching is inspired by a variety of styles she has studied including hatha, ashtanga, kundalini, and yin. Since her training, she has deepened her practice and expanded her knowledge as a teacher. Alyssa completed a 200 hour teacher training with Noell Clark, and is a certified RYT with the Yoga Alliance. Her mission is to inspire individuals within the community to breathe deeply and live with soulful and loving intention through the teachings of yoga. Her fun and upbeat nurturing classes are great for all!
Alyssa Lugtu instructs the following:
Come unwind from your day, and wind down your evening with dim lights/candles, soft music, good vibes, and a blissful flow class. This class will build strength and stamina while cultivating mindful awareness with movement. It is suitable for all levels, but be prepared for a challenge! (Note: Remember to notify the instructor if you are new to yoga or have any pain/injury. Stay mindful of your breath and body at all times, to get the best experience from your class.




A flowing sequence of postures combining breath and movement. Build heat from the inside and out, core strength, stamina and flexibility in this class. This is an all-levels class, with modifications provided for all levels of practitioners.




MERRY CHRISTMAS EVERYONE! Let's enjoy the day flowing together in gratitude for our yoga community, dedicated to sharing the gifts of health and well-being for all.


Wishing love, happiness, peace and joy to each of you and your loved ones this holiday season, from all of the teachers and staff at Downtown Yoga Shala.