Alyssa Lugtu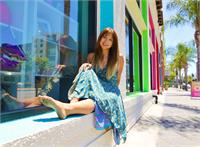 Alyssa discovered her passion for yoga early in 2011. She committed herself to the practice, while searching for a way to bring greater strength and happiness into her life. Through her active lifestyle, she found yoga to allow her to connect the mind and body. She wishes to share the same joy she has found with others. Her teaching is inspired by a variety of styles she has studied including hatha, ashtanga, kundalini, and yin. Since her training, she has deepened her practice and expanded her knowledge as a teacher. Alyssa completed a 200 hour teacher training with Noell Clark, and is a certified RYT with the Yoga Alliance. Her mission is to inspire individuals within the community to breathe deeply and live with soulful and loving intention through the teachings of yoga. Her fun and upbeat nurturing classes are great for all!
Alyssa Lugtu instructs the following:
A slower sequence of flowing postures synchronizing breath with movement. Ideal for beginners and intermediate students. Modifications may be suggested for all levels of practitioners.




A flowing sequence of postures combining breath and movement. Build heat from the inside and out, core strength, stamina and flexibility in this class. This is an all-levels class, with modifications provided for all levels of practitioners.




Calm and nourish your nervous system as well as build your immunity with this wonderfully relaxing practice. Through the use of props, the body is held restfully and comfortably. The posture allows for the let go of the need to act or think.

Heal yourself by doing nothing and simply be. Each posture allows you to explore the depth of your breath and the vastness of your spirit. This is a wonderful practice for those who have chronic fatigue, mental stressed, compromised immunity, injuries and chronic health condition.

Restorative yoga is an effective way to bring balance to over stimulated nerves and to ease chronic tension. Stress and toxins are eased out of the tissues of the body and mind allowing our natural state of physical harmony to arise. The postures done in thoughtful sequence are supported with props such as blankets, bolsters and straps. The spine is gently released in all directions allowing for a deep sense of support. Given sufficient time the nervous system eventually calms bringing the mental and emotional bodies into a blissful balance, and a sense of relaxation, contentment and self-acceptance is felt. Restorative yoga is recommended for everyone, especially those of us with stress in our lives. Come at least once a week for optimal health.