Michael Athanas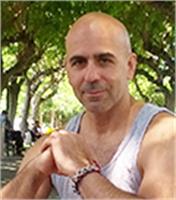 Michael, an E-RYT certified yoga instructor, has immersed himself in many styles of yoga since 2002 including Ashtanga, Bikram, and Baptiste. With a Ph.D. in Physics, Michael spent nearly a decade exploring the fundamental structure of matter at particle accelerator laboratories around the world. He finds yoga (philosophy & asana) to be the perfect complement to his stringent scientific profession – both work in tandem to increase energy and awareness. The challenging flow of Michael's classes will leave you feeling strong and centered - his approach to teaching will develop confidence, flexibility and strength.
Michael Athanas instructs the following:
This led class is for students of all levels, from new to seasoned Ashtanga practitioners. We instruct the group as a whole though half or sometimes more of the Ashtanga Primary Series, with some alignment instructions provided. New students are guided with wisdom and patience, more seasoned students can work to their own potential.

This class covers all the postures in the first half of the Ashtanga Yoga Primary Series. It includes sun salutations, standing postures, several challenging seated postures, an introduction to back bending, and the full closing sequence. Gentle pranayama, meditation, and/or Yoga philosophy are taught, at the discretion of the teacher.




Ashtanga Vinyasa is a vigorous vinyasa practice than draws intermediate to advanced practitioners looking for a more physically challenging pace. It highlights key concepts of the Ashtanga primary series with mindful introduction of challenging poses such as arm balances or inversions. Ashtanga Vinyasa connects movement with breath in a dynamic series of postures done with calm focused attention, for strength, flexibility and a quiet mind. Be prepared to sweat a lot as you move through Ashtanga's meditation in motion, as you engage core muscles, and work with a balanced steady breath.