Russell Case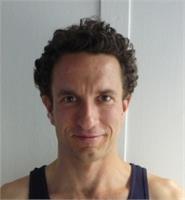 Russell Case received the Mysore Level II authorization to teach full Intermediate series. He is the only such teacher in San Francisco and one of only two in the San Francisco Bay area. Russell began studying yoga and Tao te Ching in 1992. In 1994 he started formal ashtanga-vinyasa studies with Suddha Weixler, the most senior ashtanga yoga teacher in the U.S. midwest. On his second trip to Mysore, Russell completed intermediate series with Sri K. Pattabhi Jois in one month and was given his blessing to teach. Russell is one of a handful of Guruji's students to learn his pranayama method personally. He is now practicing Advanced A with Sharath Jois, Pattabhi Jois's grandson. He is also the current director of the KPJ Ashtanga Yoga Institute. Between 2006 and 2009 Russell and his wife Sally built the largest population Mysore room outside of India in Asia. In January 2011 Russell became director of the Stanford University Mysore Yoga program.
Named one of the Influential Yoga Teachers in the US, "Russell Case has been practicing and teaching Ashtanga yoga for more than 20 years. A Level II Authorized teacher through Sri K. Pattabhi Jois, Case is one of the most seasoned Asthanga teachers in the world. A humble and refined teacher, Case is known for his joking spirit, and his perpetual eye toward social justice work. Currently, he is the Western Region Program Director for the Sonima Foundation, a non-profit program started by Sonima.com founder Sonia Jones, which brings yoga-based exercises and mindfulness into schools. Case is also Yoga Director for Stanford University, and also serves as a Yoga Advisor to Sonima.com".
Russell Case is currently not instructing any classes.