Atsuro Chiba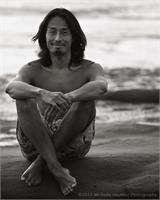 Born and raised in Japan, Atsuro started his yoga practice in his mid twenties after moving to San Diego in 2002, where he strongly connected with Ashtanga Yoga. Atsuro has been seriously practicing and studying Ashtanga Yoga with Tim Miller for over 10 years. Tim has given Atsuro the position to teach and assist in Mysore classes, which has allowed him to continuously deepen and advance his knowledge and experience of the practice. Atsuro has completed 4th Series in 2015, and he is currently learning the 5th Series. Atsuro has been assisting Tim's Teacher Training for many years. His teaching style is to face each student, and guide the awareness of the most beneficial practice for each of them.
He teaches workshops in the United States, Japan, Asia and Europe. His daily Ashtanga Yoga practice continues to change and shape his life in a positive way. Atsuro is grateful to be able to share his knowledge of the practice, and appreciates Ashtanga Yoga as a wonderful science of the mind, body, and spirit.
Atsuro Chiba is currently not instructing any classes.