Reena Kushwah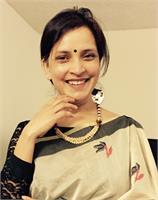 Reena's first exposure to Yoga was since childhood, a part of daily curriculum at primary school in India. But it took almost 3 decades to completely grasp its impact and importance. Working in the corporate world for over a decade, after two kids and a full time job, Yoga came as a miraculous cure to all her health and stress problems. Reena started teaching yoga in her neighborhood voluntarily since 2015 and soon after obtained her 200-hr certification. She then traveled to Mysore India to further deepen her roots, specifically in the Bhakti tradition, completing a certified course in Ashtanga Yoga, Chanting and Pranayama with the renowned Mr. BNS Iyengar. Her love of chanting, a deeply heart-opening practice, and the devotional part of yoga has allowed her to blossom, find her bliss and share this wonderful yoga practice with others.
Reena Kushwah instructs the following:
Come unwind from your day, and spend your Sunday night with candles (more than usual), music, good vibes, and a blissful flow class. The class willl build strength and stamina while cultivating mindful awareness with movement. This class is suitable for all levels, but be prepared for a challenge! Remember to notify the instructor of any health challenges.