Jovanna Perez Lydon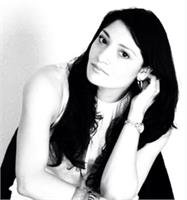 Jovanna Perez Lydon is a Bay Area native with of rich Nicaraguan ancestry. She has been dedicated to the meditative practice of Ashtanga Yoga for many years, and recently earned her 200 hours Vinyasa Yoga Teacher Training at Downtown Yoga Shala led by the esteemed Noell Clark. Jovanna is excited to support her students develop a discipline for physical, mental and spiritual well-being. Currently she lives in San Jose with her husband and finds joy in spending time with family, friends and in being of service to the local community and native Nicaragua. She studied, lived and travelled abroad to then earn her degree in International business. She established a corporate career as an accountant, manager and business operation in Silicon Valley for nearly 15 years. She warmly invites you join her Yoga classes taught in English and in Spanish!
"Nothing in the world can purify as powerfully as wisdom. Practiced in yoga, you will find this wisdom within yourself." Bhagavad Gita

Jovanna Perez Lydon es nativa del Area de la Bahía con decendencia Nicaragüense. Se ha dedicado a la práctica meditativa del Ashtanga Yoga desde hace muchos años y recientemente obtuvo su certificacion de Profesora de Yoga Vinyasa por haber completado 200 horas de educaccion preliminarias guiada por la muy estimada Profesora Noell Clark en el Downtown Yoga Shala. Jovanna apoyo a sus estudiantes a que desarroyen una disciplina para la salud y bienestar físico, mental y espiritual. Actualmente vive en San José con su esposo y encuentra gozo en pasar tiempo con familia, amigos y en ser de servicio a la comunidad local y en Nicaragua. Estudió, vivió y viajó al exterior para luego ganar su licenciatura en negocios internacionales. Ella estableció una carrera corporativa como contador, administrador y operación de negocios en Silicon Valley durante casi 15 años. Con gusto le invita a unirse a sus clases de Yoga!

"Nada en el mundo puede purificar con tanta fuerza como la sabiduría . Practicada en el yoga, se encuentra esta sabiduría dentro de sí mismo." Bhagavad Gita
Jovanna Perez Lydon is currently not instructing any classes.