Praveen Ananth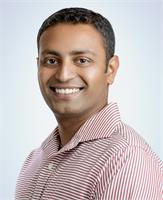 "There is nothing purer in this world than knowledge of the true self. In due time, this will come to the devoted practitioner of yoga." - Bhagavad Gita Chapter 4, verse 38
Hailing from Southern India, Praveen is a lifelong student of Sanskrit and Sanatana Dharma philosophy, earnestly seeking to apply its time-tested wisdom to everyday, practical life. He completed his 200-hour Teacher Training with Kia Miller, founder of Radiant Body Yoga (RBY). This intelligent approach combines the technical aspects of Vinyasa postures with breath-focused and mantra-based kriyas (sequenced set of poses) of Kundalini Yoga as taught by Yogi Bhajan. Thus able to holistically balance the inward and outward energies of the body and the mind. An engineer and mathematician by trade, with ongoing international corporate experience, Praveen also enjoys cooking, gardening, motorcycling and flying.
Proceeds from all of his classes go towards supporting the homeless in the Bay Area. http://www.bayarearescue.org/
Praveen Ananth instructs the following:
Come unwind from your day, and wind down your evening with dim lights/candles, soft music, good vibes, and a blissful flow class. This class will build strength and stamina while cultivating mindful awareness with movement. It is suitable for all levels, but be prepared for a challenge! (Note: Remember to notify the instructor if you are new to yoga or have any pain/injury. Stay mindful of your breath and body at all times, to get the best experience from your class.