Viviane Ly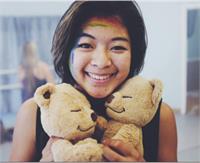 Viviane received her 200hr certification with Noell Clark in 2016, as well as her 95hr kids yoga certification from Gopala Yaffa (founder of Rainbow Kids Yoga). She received her B.A. in Psychology and minor in Child Development from SJSU in 2015 while developing her own yoga practice. With her ever-growing thirst for knowledge and passion for learning new things, Viviane wants to be a positive role model while providing a fun learning environment for kids. She strives to focus on each students' unique learning experience in order to promote success, creativity, and mindfulness. Kids are encouraged to openly share their ideas with their peers to better co-create a class that benefits everyone!
Viviane Ly instructs the following:
Our kids yoga classes are tons of fun so kids are excited to practice yoga! Children learn through play so the yoga postures (asanas) are often delivered through games and fun. This way children are excited to receive all of the amazing benefits of yoga like learning techniques for self-health, relaxation and inner fulfillment. Making it easier for them to navigate life's challenges with more ease. Learning yoga at a young age encourages self-esteem and body awareness with a physical activity that is noncompetitive. There are two gifts we should give our children: one is roots, the other is wings.




All kids 4-10 are welcome. There is no yoga experience or flexibility required. Please have them wear clothes they can move around in.