Lori Petropoulos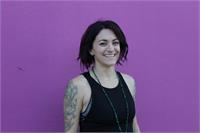 Lori is a Certified Vinyasa Yoga teacher and Massage Therapist living in the Bay Area. Her yoga journey began in 2007 and she has been a massage therapist since 2010. Upon moving to California from Pennsylvania, Lori completed her 200 hour RYT with Noell Clark. As both a massage therapist and yoga teacher, her mission is to facilitate joyful healing and the awakening of both inner peace and inner strength. In Lori's Vinyasa based yoga classes, you will find a focus on breath centered body awareness and hopefully some yogic lessons to take with you off the mat (and often savasana bonuses like a mini massage or some Reiki). She hopes to invoke in all of her students a sense of compassion, curiosity, and creativity.
Lori Petropoulos instructs the following:
A slower sequence of flowing postures synchronizing breath with movement. Ideal for beginners and intermediate students. Modifications may be suggested for all levels of practitioners.




A flowing sequence of postures combining breath and movement. Build heat from the inside and out, core strength, stamina and flexibility in this class. This is an all-levels class, with modifications provided for all levels of practitioners.