Angela Arrivo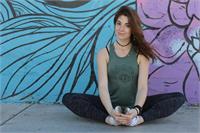 Angela is a certified Vinyasa Yoga teacher currently living in the Bay Area. Starting her Yoga journey in 2013, she quickly became intrigued with Yoga as a philosophy and as a way of life. Since then she has relocated from her hometown in the south suburbs of Chicago to northern California where she completed her 200-hour RYT with Noell Clark. Angela's practice started as a desire for knowledge and has since grown into a passion for what she calls "giving the best gift you can give to yourself: Yoga". Off the mat, you can find Angela indulging in a stack of books, advocating her beliefs on a plant-based diet, or finding equanimity in nature & sunshine.
Angela Arrivo instructs the following:
Come unwind from your day, and wind down your evening with dim lights/candles, soft music, good vibes, and a blissful flow class. This class will build strength and stamina while cultivating mindful awareness with movement. It is suitable for all levels, but be prepared for a challenge! (Note: Remember to notify the instructor if you are new to yoga or have any pain/injury. Stay mindful of your breath and body at all times, to get the best experience from your class.




A slower sequence of flowing postures synchronizing breath with movement. Ideal for beginners and intermediate students. Modifications may be suggested for all levels of practitioners.




Nurture and detox your body and mind through the holiday! This class focuses on healthy digestion, balance, and deep core poses to help us enjoy the decadence of the holiday season. Trust your gut!