Angela Arrivo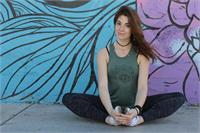 Angela is a certified Vinyasa Yoga teacher currently living in the Bay Area. Starting her Yoga journey in 2013, she quickly became intrigued with Yoga as a philosophy and as a way of life. Since then she has relocated from her hometown in the south suburbs of Chicago to northern California where she completed her 200-hour RYT with Noell Clark. Angela's practice started as a desire for knowledge and has since grown into a passion for what she calls "giving the best gift you can give to yourself: Yoga". Off the mat, you can find Angela indulging in a stack of books, advocating her beliefs on a plant-based diet, or finding equanimity in nature & sunshine.
Angela Arrivo instructs the following:
A flowing sequence of postures combining breath and movement. Build heat from the inside and out, core strength, stamina and flexibility in this class. This is an all-levels class, with modifications provided for all levels of practitioners.




A slower sequence of flowing postures synchronizing breath with movement. Ideal for beginners and intermediate students. Modifications may be suggested for all levels of practitioners.