Isha Dwivedi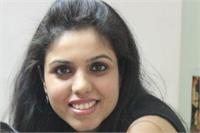 Isha comes from a land where Yoga originated, but her first encounter with yoga was only in her late 20's, when she accidentally stumbled upon a TV channel that aired yoga classes every morning. Soon after a few weeks of regular practice, she realized that yoga is so much more than a physical practice. Isha started to explore other forms of yoga such as pranayama and meditation that helps connect to your inner self. With each yoga practice she was amazed with how her body and mind felt so calm and grounded. The more she learned from her practice the more she wanted to share with people around her and help them deal with the stresses of daily life and feel empowered. She completed her 200-hour Teacher Training program with Noell Clark to deepen her knowledge, and started teaching yoga in her neighborhood. Isha believes that Yoga is an unending process of self-study and exploring your body's potential. Her classes are a blend of asanas, pranayama and meditation, fit for all fitness levels. She encourages her students to experience each and every pose by providing modifications for different levels of practitioners. Besides teaching yoga, Isha is also a full-time mother in the Bay Area.
Isha Dwivedi instructs the following:
A slower sequence of flowing postures synchronizing breath with movement. Ideal for beginners and intermediate students. Modifications may be suggested for all levels of practitioners.




This 75 minute class starts with an invigorating flow sequence of postures that combines breath with movement, building heat, core strength, stamina and flexibility. We close with restorative poses, allowing the body to open deeper and relax more fully — the perfect balance of flow and restore. This rejuvenating class is open to all, modifications provided for all levels of practitioners.




A mix of traditional and non-traditional yoga poses like Kundalini and Yin, incorporated with another form of fitness, such as Tai'Chi, Qi'Gong, is called yoga fusion. This blending of techniques focuses on mind and body movements from these disciplines with the combined benefits of strength, balance, flexibility and mindfulness.