Mythri Jegathesan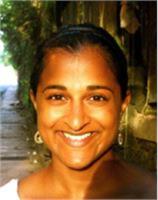 Mythri's first introduction to yoga was at age five through her grandfather who practiced daily in Sri Lanka and during his visits to the United States when she was child. He had to turn off the lights to keep her from laughing during daily meditations, but something clicked in those moments of darkness and laughter, and she has been practicing yoga ever since. During her childhood and as a young adult, she practiced Hatha and Vinyasa yoga to complement her training in Indian Classical Dance (Bharathanatyam) and found it to be a source of healing and empowerment through a knee injury at age 14 and through her undergraduate, Masters and Doctoral student years. She received her 200 hour Vinyasa certification in Silicon Valley and has taught yoga to youth in Sri Lanka and led yoga and wellbeing workshops at Barnard College and Santa Clara University. A cultural anthropologist on and off the mat, Mythri encourages all of her students to appreciate the diversity of experience that life brings and to practice toleration of oneself and others with sincere intentions.
Mythri Jegathesan instructs the following:
A flowing sequence of postures combining breath and movement. Build heat from the inside and out, core strength, stamina and flexibility in this class. This is an all-levels class, with modifications provided for all levels of practitioners.




A slower sequence of flowing postures synchronizing breath with movement. Ideal for beginners and intermediate students. Modifications may be suggested for all levels of practitioners.