Aimi Duong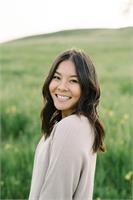 Aimi's passion for yoga began when she took her first yoga class in 2010 and fell in love with the practice immediately! She credits the wonderful practice of yoga for bringing her a little closer to her body, breath and heart each time she steps on her mat. In 2017, she completed her 200 RYT with Courtney Fletcher as an effort to deepen her practice and in 2018 she became inspired to teach Pre-natal specifically, as she begins her own journey into motherhood. She completed her Pre-natal Teacher training with Jane Austen and is excited to create a space where mama's can feel honored and empowered for the incredible work they are doing.
Aimi Duong instructs the following:
Within you there is an intuitive wisdom which understands the natural process of birth. We help you reconnect with this wisdom, guiding you through a class specifically designed for the journey of pregnancy. Linking yoga postures with the breath will lead you to experience your changing body in a positive way, and bring awareness to the mind, body and spirit, and also the spirit of your baby. The class is conducted in a calm, peaceful environment and will help strengthen the uterus and pelvic muscles, improve circulation, aid in digestion, exercise the spine and increase overall comfort. Yoga can also alleviate many of the discomforts of pregnancy such as nausea, constipation, varicose veins, swelling, back pain and sciatica. A safe, open community allows you to freely discuss any issues, from discomforts and concerns, to the wonderful new changes your body and baby are experiencing.