Carolyn Gladd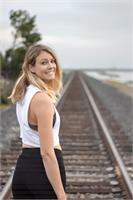 For nearly a decade, Carolyn's mat has been her home. She began her yoga practice in her late teens, when she was uncomfortable with her body and never could sit still. Through her yoga practice, she learned to listen and love her body, be kind to herself, and accept wherever she was, on and off her mat. She learned that the world is not so serious, and to be silly during difficult transitions. Carolyn obtained her 200 RYT while studying a branch of Vinyasa yoga when she was living in North Carolina. Her many teachers in Boston, MA strongly influenced her practice and teaching style, and she must acknowledge one of her very first yoga teachers in New Jersey, who knew her body better than anyone, and Carolyn is forever inspired by her knowledge. Carolyn moved across the country in the summer of 2018 and is excited to transition her corporate career into a different world of teaching yoga. She is super excited to be learning from new teachers and bringing new ideas to her own students. Her classes provides a warm space for her students to learn and challenge themselves, come back to the stillness of their breath, and have some fun!
Carolyn Gladd instructs the following:
A flowing sequence of postures combining breath and movement. Build heat from the inside and out, core strength, stamina and flexibility in this class. This is an all-levels class, with modifications provided for all levels of practitioners.